Streaks are the ultimate meaty goodness that can kill your hunger in a good way leaving your stomach and heart, satisfied. There's nothing better than a good quality steak and luckily in Karachi, you have amazing options to fill your stomach with some of the best steaks. Here we give you suggestions based on one thing, quality of steaks (juiciness and tenderness) & meat (beef, of course). There are different types of steaks like Tenderloin, New York Strip, sirloin, T-Bone, Rib eye, Flank, skirt and rump. Steak can be made with Chicken and fish as well based on your preferences; however, as a standard, we judge the steaks based on its beef alone.
Follow our recommendations for a good dining experience and the best steak house in Karachi.
Karachi is blessed with amazing steak houses that provide quality steaks in a reasonable price. Let's have a look at the top 10 best steak house in Karachi.
The Grill House Restaurant: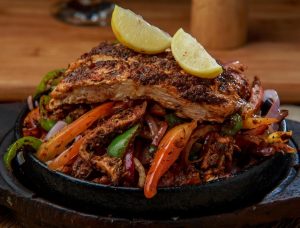 Location: Main Shaheed-e-Millat Road, Karachi, Pakistan.
The Grill House offers delicious food from appetizers to main course. With everything served perfectly, the steaks are bound to be good; in fact, they are delicious.
Meat Quality: The quality of meat here is quite tender and soft. To top it off, they give you a sauce which enhances the taste of the steak to another level. Service is pretty fast with staff who is willing to help you out at a reasonable speed. Ambiance is also another attraction here along with affordable price.
The Patio: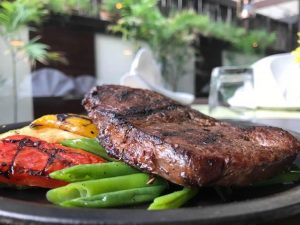 Location: F-50/1, Block – 4, Clifton, Pakistan.
The Patio offers an attractive ambience with a small cozy place that is not overcrowded at all. Steak is served with crab and prawn ravioli and cream sauce is extremely tasty however, the serving size is not adequate.
Lava Grill: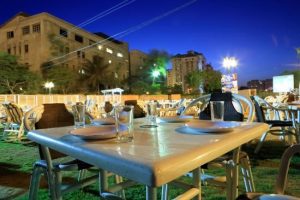 Location: Clifton, Block 2, Near Bilawal House,Karachi.
Lava Grill provides quality food. This place specializes in Pakistani, Afghani and Chinese dishes. The ambience is pretty customer friendly with an open air garden outside the restaurant providing fresh air to customers enjoying their meals. Here, we recommend chicken steaks because they are juicy and tender. To top it off, the sauce is delicious and compliments the steak quite well.
 Koffie Chalet: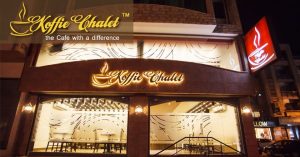 Location: SMCHS and Zamzama DHA
Located at SMCHS and Zamzama DHA, Koffie Chalet is known for its delicious meals – specially, steaks. The best part about it is the combination of sauces available for customers to choose from. The sauces include, Dijon Sauce, Mushroom Sauce, Capers Sauce and Marinated Sauce. As far as sidelines are concerned, you also get a lot of options such as mashed, baked, gratin and herbal potatoes, potato wedges, and even garlic rice or fries. Having different options to choose from is the best attraction of this place and it will provide you with delicious meals at an affordable price.
Okra: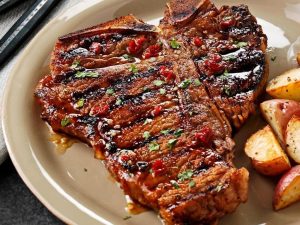 Location: 12- C 10th Commercial Ln, Zamzama Commercial Area Phase 5, Karachi.
 Okra provides you with steaks so good that will fill your beef cravings. This place started serving delicious food in 1999 and since then it has become a very famous spot for beef loving people. With commendable service and professional staff, this place is worth a shot!
GunSmoke: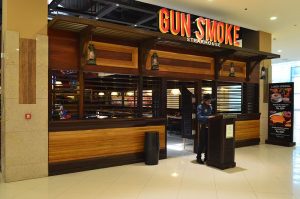 Location: Dolmen City Mall, Clifton,Karachi.
GunSmoke offers amazing ambience with delicious steaks. The steak is available in meat and chicken; however, we recommend beef steak. Sidelines include steamed vegetables, garlic rice, mashed potatoes, fries and creamed spinach.
Jason's Steak House: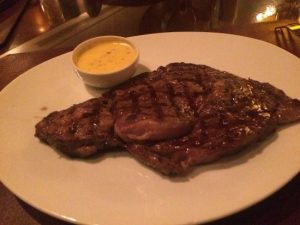 Location: Pearl Continental Hotel, Karachi.
Jason's steak house provides beautiful views of Karachi's skyline. The quality of steaks here is unmatched due to the place using only the finest heritage of US Black Aberdeen Angus Breed.
Maxim's:
Location :UBL building, main Clifton Rd, near Schon circle,Karachi.
This place has a beautiful décor inspired by the rustic mahogany look. Easily, this place is choice of the upper class and the ambiance speaks for itself. This place made a comeback and gained good reviews in 2017. You can have either chicken or beef steaks here which is served in a sizzling dish. Sidelines include, jacket potatoes, noodles, sweet corn, vegetables, fries and even grilled prawns.
Bloomsbury: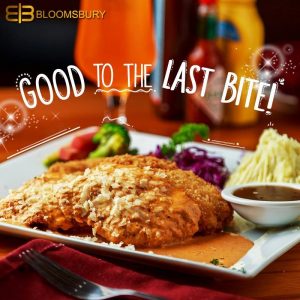 Location: Saba Ave
Bloomsbury provides a beautiful warm décor. This place offers amazing breakfast and steaks along with other main courses on the menu. The consistency of steak is pretty mind blowing and with finest quality of ingredients you are bound to love this juicy steak.
Recommended Stake: Chardonnay Steak is our favorite from Bloomsbury's menu. This steak is served with chardonnay sauce and vegetables which are finely sautéed – giving it a healthy look.
TGI Fridays: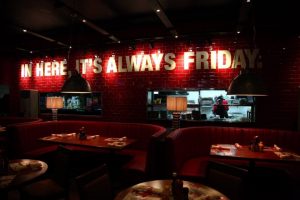 Location: Boat Basin,Karachi.
TGI Fridays is food chain from New York which started serving people few years ago. Karachiites cannot have enough of this place and there's a genuine reason behind it, delicious steaks!
TGI Fridays serves their signature Tennessee Grill offering a massive 12ounces Angus Beef Steak which is extremely delicious and mouthwatering. This place should be on your list if you love quality steaks!