Before we dig deeper to tell you about a wide range of variety this dish has, let us shed some spotlight on the history of this mouthwatering dish. Biryani is a perfect combination of rice, meat, and spices. It is not only a favorite dish of this country but also a preferred food among a huge number of people all over the world.
The word "Biryani" is taken from the Persian work called "Birian." Well, the exact origin of this dish is still not clear because there are different perceptions of it. Famous historian Lizzie Collingham said that this dish was prepared in the time of Mughal Empire for the first time in the royal kitchen. On the other hand, some people claim that this dish was already discovered in India before Mughal Emperor Babur came to this place. Another well-known historian Al-Buruni, who has significant knowledge of meals of the Mughal Era said that this dish is quite identical to a rice dish of that time. According to his statement, Biryani might be the latest form of that dish.
No matter when it was discovered because this delicious dish is the dream food of a lot of People. The variation that this dish offers is outstanding. It is prepared explicitly with different styles to enhance its taste. You will be amazed to know that there are twenty one different types of biryani in the world rather than a simple Karachi biryani. So, next time when you decide to make biryani. Try to come out with a different variety to surprise your family with a unique look and yummy taste.
Right under your nose, we have mentioned a list of 21 different types of biryani to let you think out of the box, and prepare this piquant dish in a completely different way than ever before.
Mughlai Biryani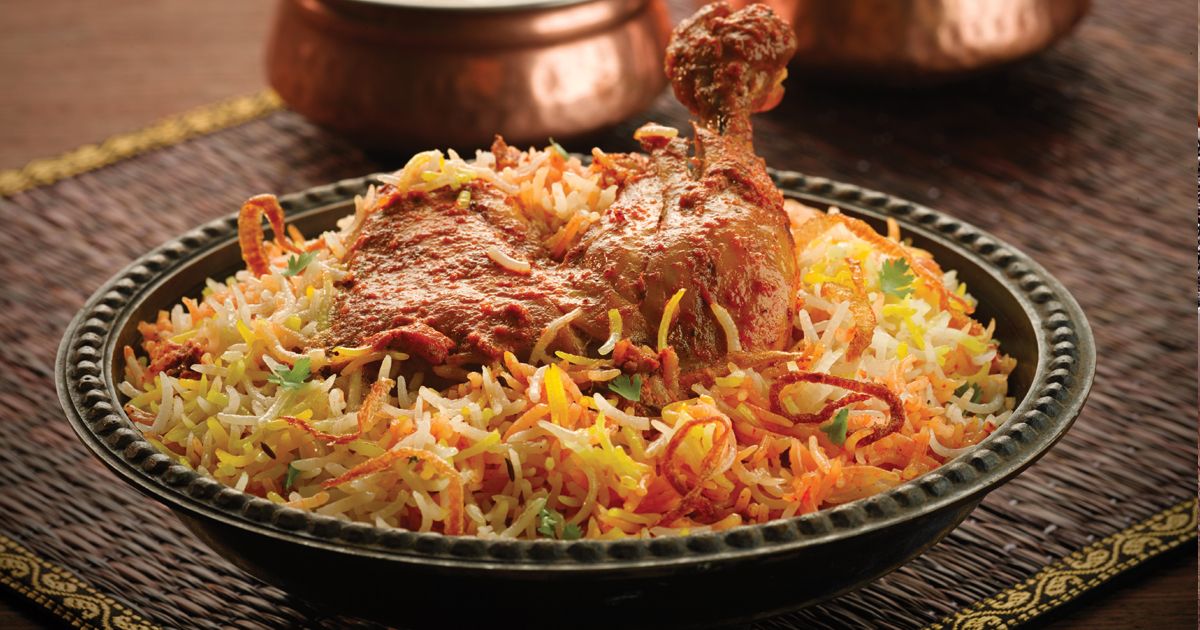 Mughlai biryani reminds us regarding the way Mughals use to prepare this dish. The key difference in this biryani is that the rice is fried explicitly in the pure ghee before mixing it with meat and other spices. To further enhance the richness of this biryani, a specific amount of dry fruits are also added in it before serving which makes it a perfect fit for the Mughals.
Sindhi Biryani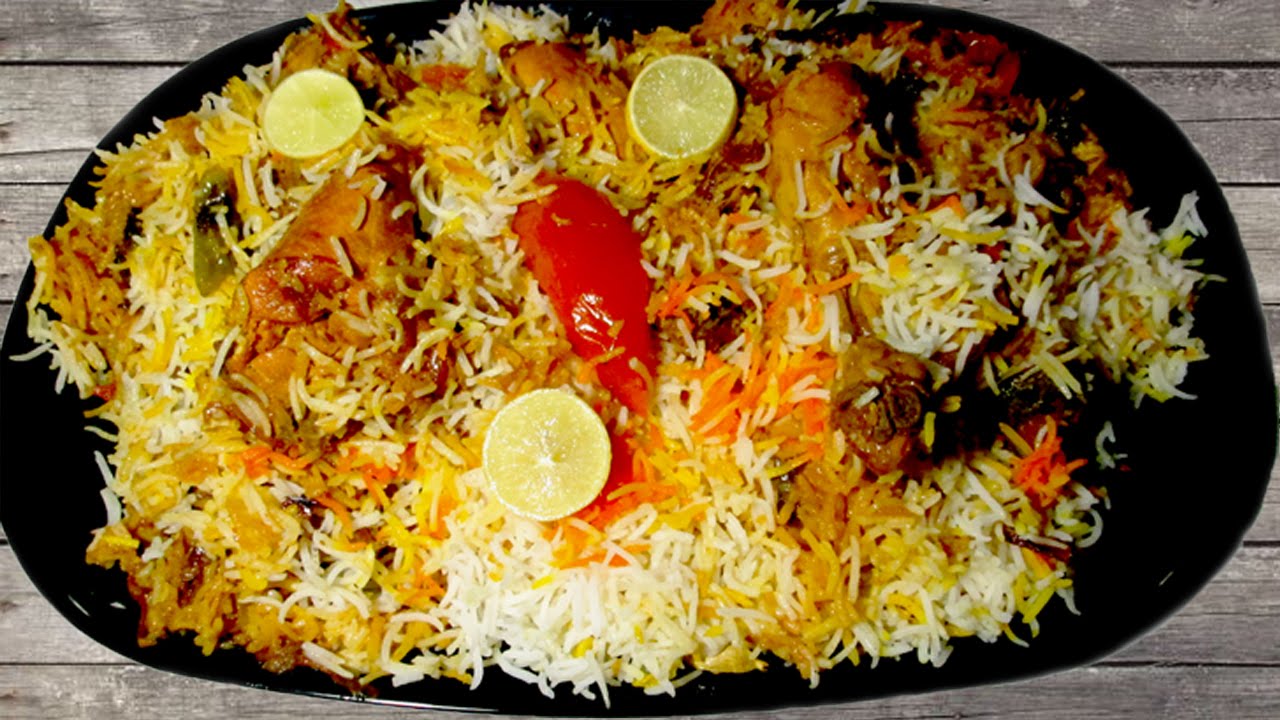 Sindhi Biryani comes from the Sindh region of Pakistan. This biryani is not heavily stuffed with food color that's why it has a much lighter color in it. A thick curry of goat meat is included with rice in this biryani. It is also decorated with dry fruits, nuts, and crispy fried onion to make it look yummy.
Hyderabadi Biryani
This type of biryani is quite popular among the people of Hyderabad. It has some resemblance with Iranian recipe. In this variety of biryani, marination of meat plays a vital role because the meat is kept overnight after marination process which further soaked in yogurt before moving towards the step of layering. Fried onions on top of it along with a wide range of spices are something that makes it different from others.
Ambur Biryani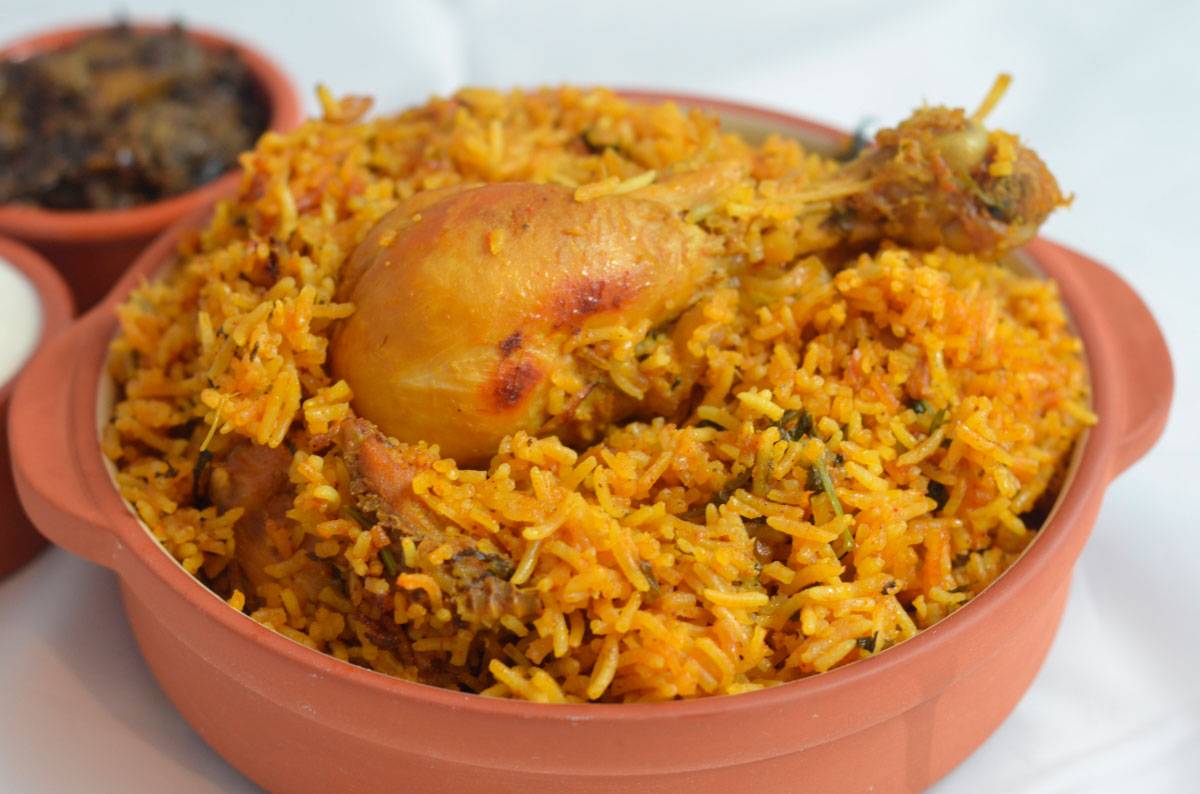 Ambur is a place in Tamil Nadu, India where this type of biryani is the most popular among all. Small grained rice known as "Seerage Samba Rice" is used to prepare it rather than the long basmati rice. The meat and spice are mixed with curd to give it a spicy taste. It is called "Pakki Biryani" because it is cooked in dum. This biryani is served with a spicy brinjal curry to boosts the taste of this delicious dish.
Malabari / Thalassery Biryani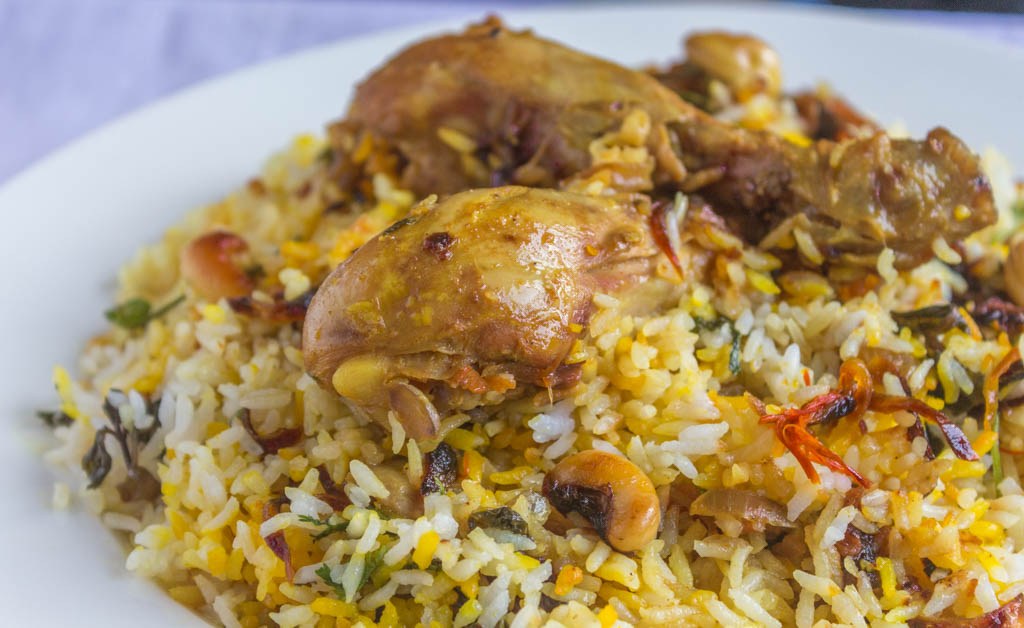 Another excellent type of biryani that is extremely well-liked in Kerala, India. Short grain rice is the primary unique factor of this biryani. The main reason for using this kind of rice is because it gives an excellent aroma despite its small size. This rice doesn't require pre-soaking, you only need to wash them and proceed further with the process.
Lucknowi Biryani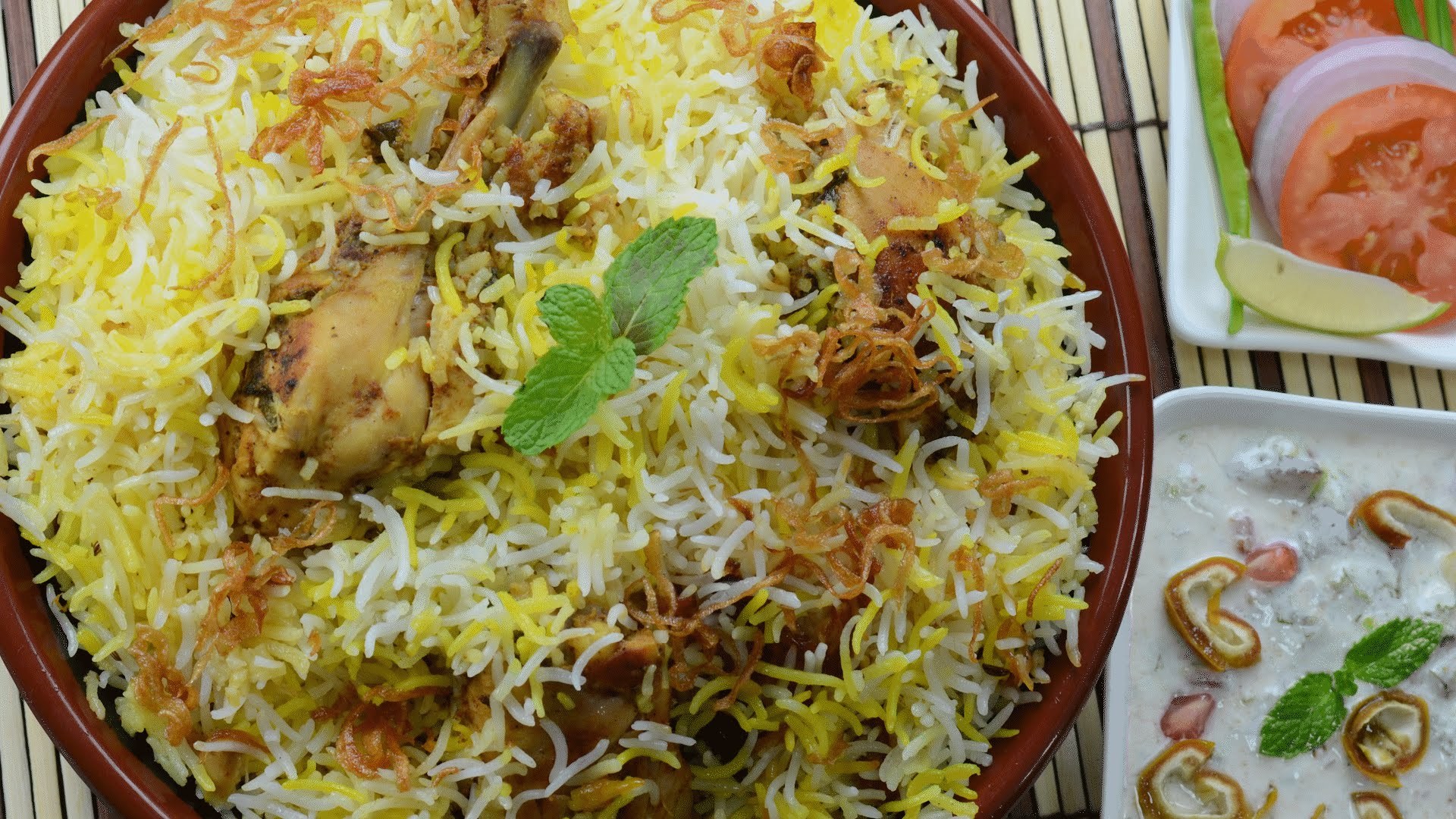 This biryani is less spicy as compared to other biryanis. It is renowned for its excellent taste and is highly preferred in India. What makes it unique from other is that the rice and meat are cooked in different vessels until they are half done, and after that, they merged together till they are cooked thoroughly. This way of cooking offers it a delectable and enjoyable flavor to enjoy. Kewra water is also added in the final stages to give it some extra taste.
Mumbai Biryani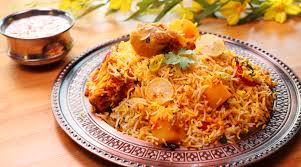 This biryani is much sweeter in taste among others because it includes plums and potatoes in it. It is one of the famous foods of Mumbai which is cooked in the slow heat. This biryani is kept moist rather than a bit juicy like others. If you don't like too many spices in the biryani, then this one will be ideal for you.
Kolkata Biryani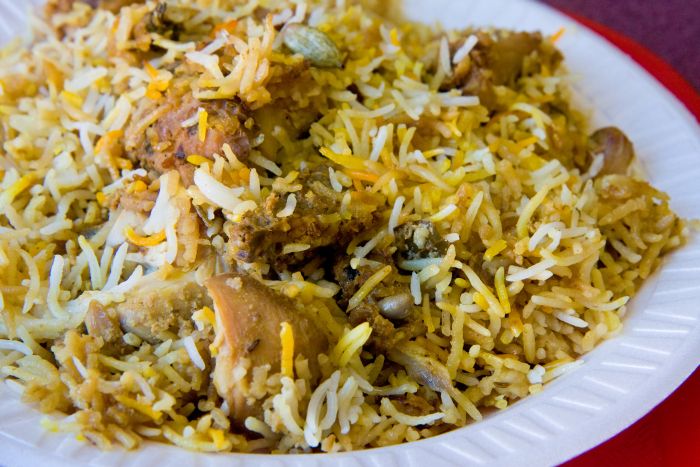 This special biryani is perfect for vegetarians because instead of meat it uses potatoes and eggs in it. It is less spicy biryani compared to other traditional spicy biryani. Soft boiled eggs give it an extra flavor along with the delicious meat. This variation of biryani is getting massive attention in different cities of India because of its great taste.
Kalyani Biryani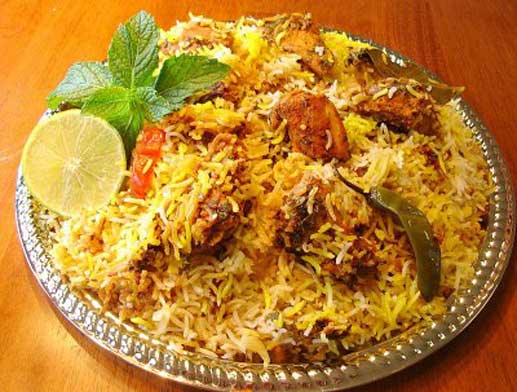 Kalyani Biryani has some resemblance with Hyderabadi biryani. The primary difference of this biryani is the inclusion of tomatoes, coriander and cumin seeds. Saffron is also added in it along with other spices to increase its flavor. It is much juicy in texture compared to other biryani because of tomatoes and provides a rich taste to enjoy.
Dindigul Biryani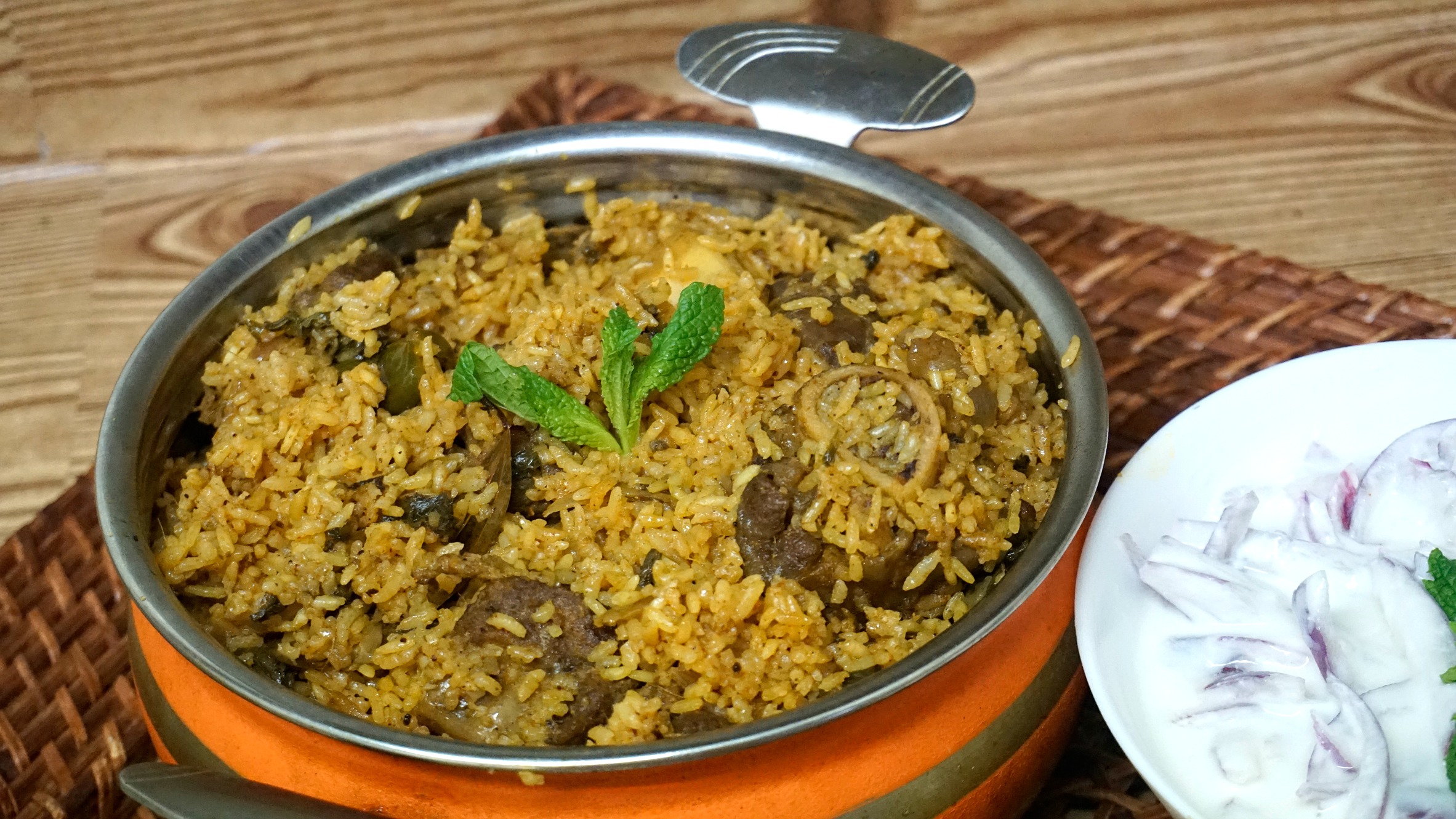 This biryani is specifically made from homemade masalas to give it a different taste, seerage samba rice is used in it along the kamaraja lake water for cooking purpose. The basic difference in it is the use of extra meat which adds a lot to the flavor of the rice. The additional quantity of meat along with the addition of lemon makes it juicy and delicious.
Managalorean Biryani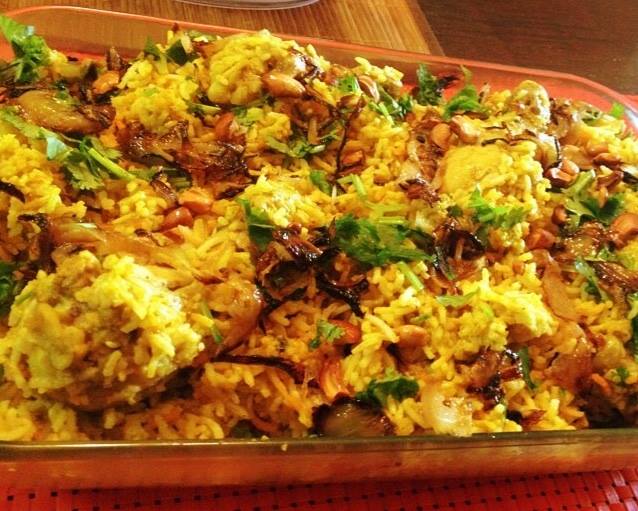 This biryani is a specialty of the coastal city of Mangalore.  The use of seafood with regular meat like mutton or chicken is the distinctive feature of this biryani. Coriander and fennel are also added in it which works exceptionally well with a high amount of meat to bring it the perfect taste.
Doodh Ki Biryani
It is a unique type of biryani from Hyderabad. This biryani is cooked with creamy milk instead of water to mix the spices which keeps the rice much softer. Nuts are specially roasted in butter to add an extraordinary flavor to it. It has mild taste because of the use of fewer spices in it.
Mutanjan Biryani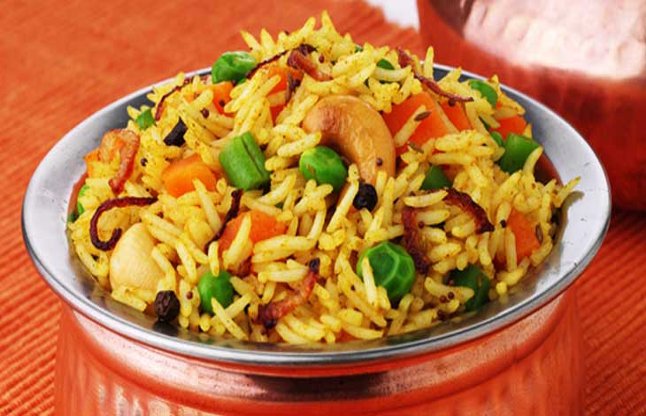 Mutanjan Biryani is a popular rice dish of beautiful Kashmir. It has a significant amount of sugar in it to make it sweet rather than traditional spicy biryani because they people don't like too many spices in their food. Screwpine water and rose water is also included in it with saffron to enhance the flavor and aroma of this biryani.
Bhatkali Biryani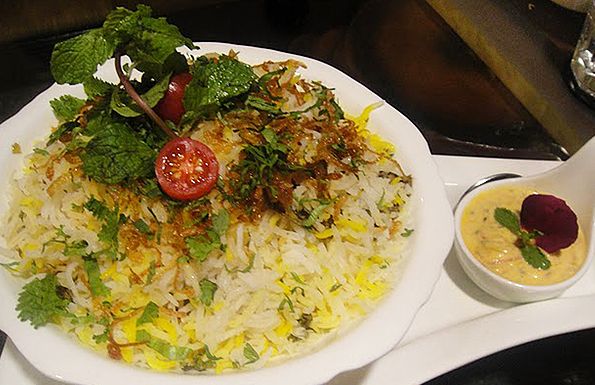 It is the only biryani in which there is no use of oil and ghee. This biryani is a dream for every calorie conscious person who is extremely careful about his diet. Three separate vessels are used to cook meat, rice, and spice in them. The separately cooked items are merged together to give it a final touch before serving.
Bohri Biryani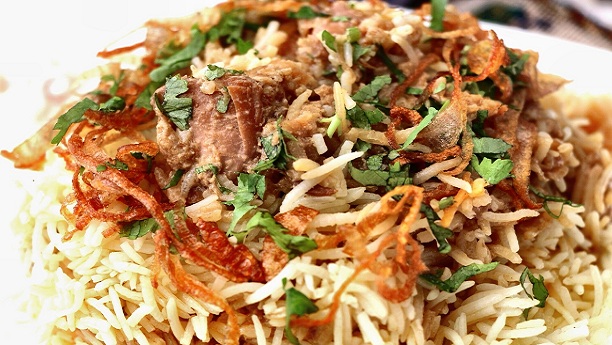 Bohri Biryani is a nice addition to the list of biryani. It is prepared in the dum at slow heat. The use of extra tomatoes along with the smoke of charcoal to the meat is the real difference in it. Smoked meat is added to the partially boiled rice which is kept under slow heat for around two hours before letting it out for serving.
Beary Biryani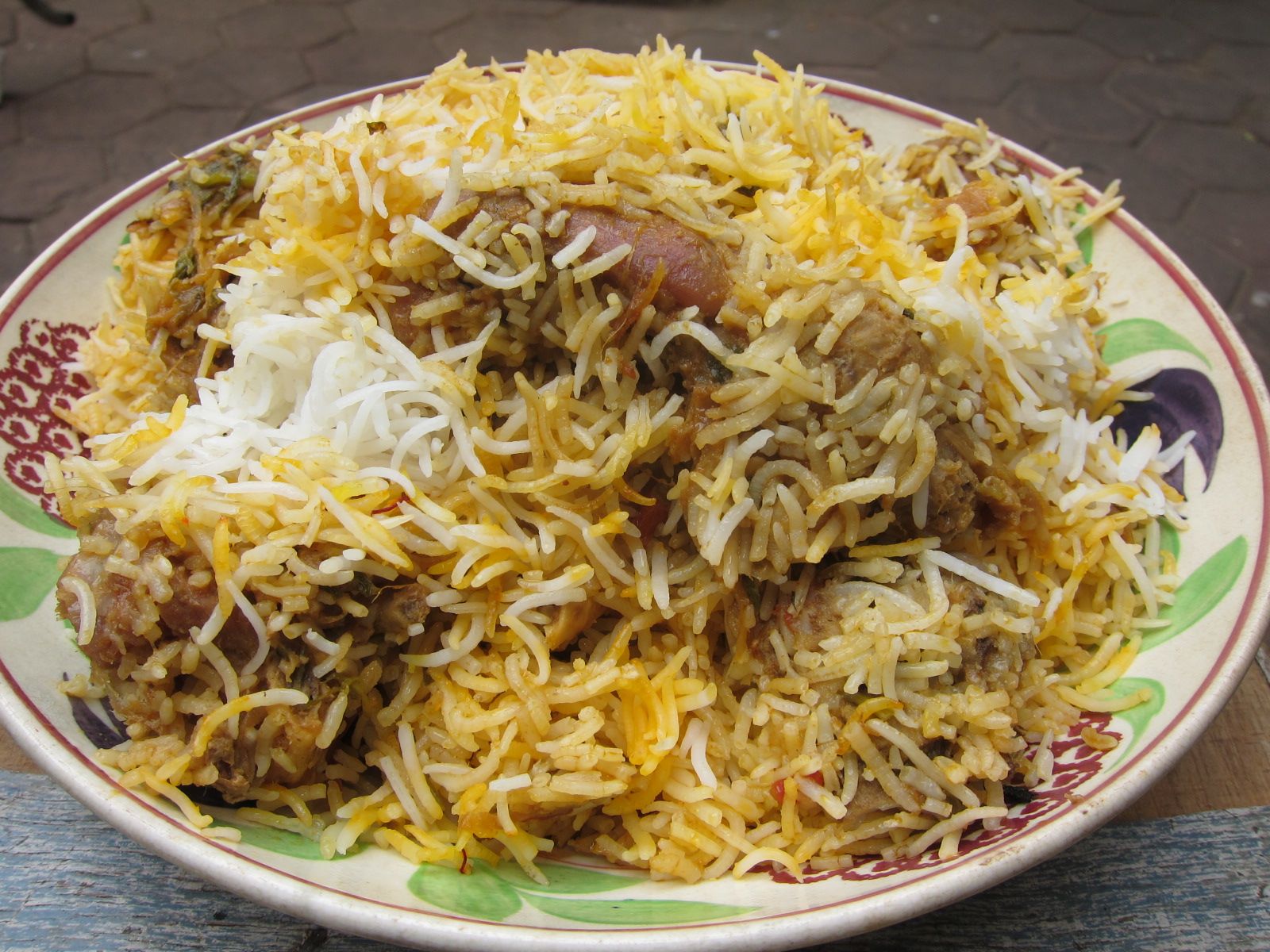 Beary Biryani is a comparatively less spicy form of this dish. A deep flavor of spices and ghee is given to it by keeping the rice of this biryani under the mixture of ghee and spice for the whole night. There is no specific type of meat used to cook it; you can go for chicken, prawn, fish, etc. depends upon your choice of meat.
Kampri Biryani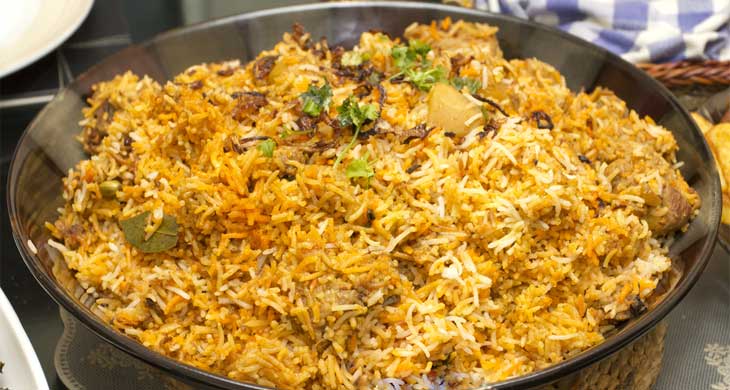 Kampri Biryani comes from Assam, India. It is another delightful variety for those people who love the combination of meat and vegetable because it comprises a good quantity of vegetables like beans, carrots, peas, bell peppers, and potatoes. The scrumptious flavor of meat and vegetables with the addition of nutmeg and cardamom makes it a treat to enjoy.
Tahri Biryani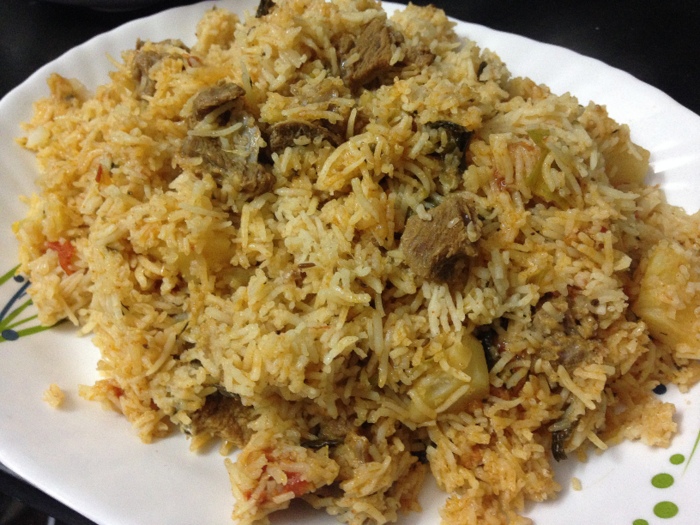 It is an especial rice food for vegetarian. The use of potato is the uniqueness of this biryani because there is no use of any type of meat in it. Rice along with potatoes and other vegetables give it a superb taste. This biryani is very common among the subcontinent because it is considered a light and healthy food option.
Memoni Biryani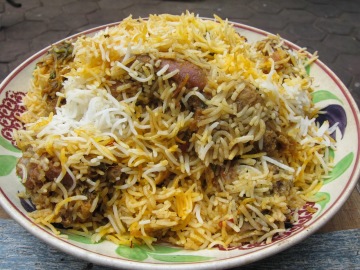 This spicy biryani is from the Gujrat region. Lamb meat is specially used to prepare this biryani with deep fried onion, potatoes and yoghurt. This type of meat gives it a rich flavour because the gravy of lamb is generally thicker than chicken. A small amount of tomatoes is used in it with less food colour that gives it the original colour of the biryani.
Fish Biryani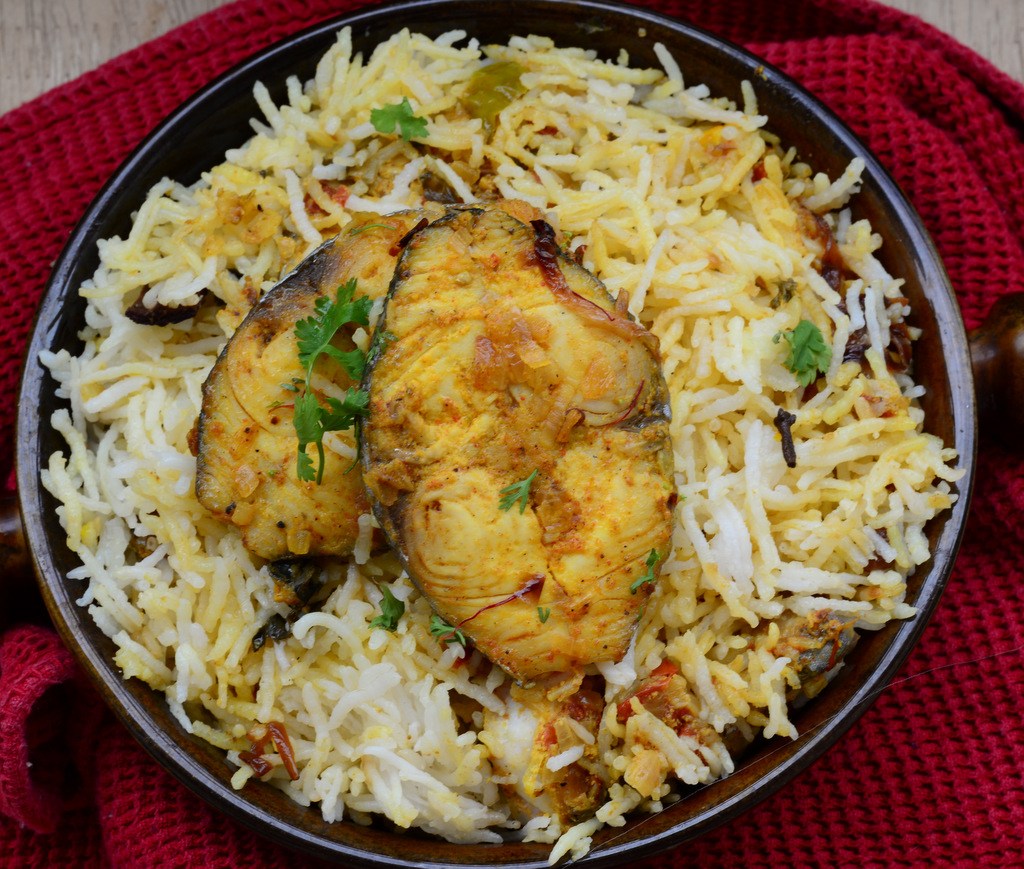 Fish Biryani is one of the most favourite biryani among seafood lovers. The meat of fish is usually used to cook this biryani along with basmati rice and all essential spices. It is a spicy biryani in which the meat of fish is added with kewra to have an excellent aroma and mouthwatering taste.
Afghani Biryani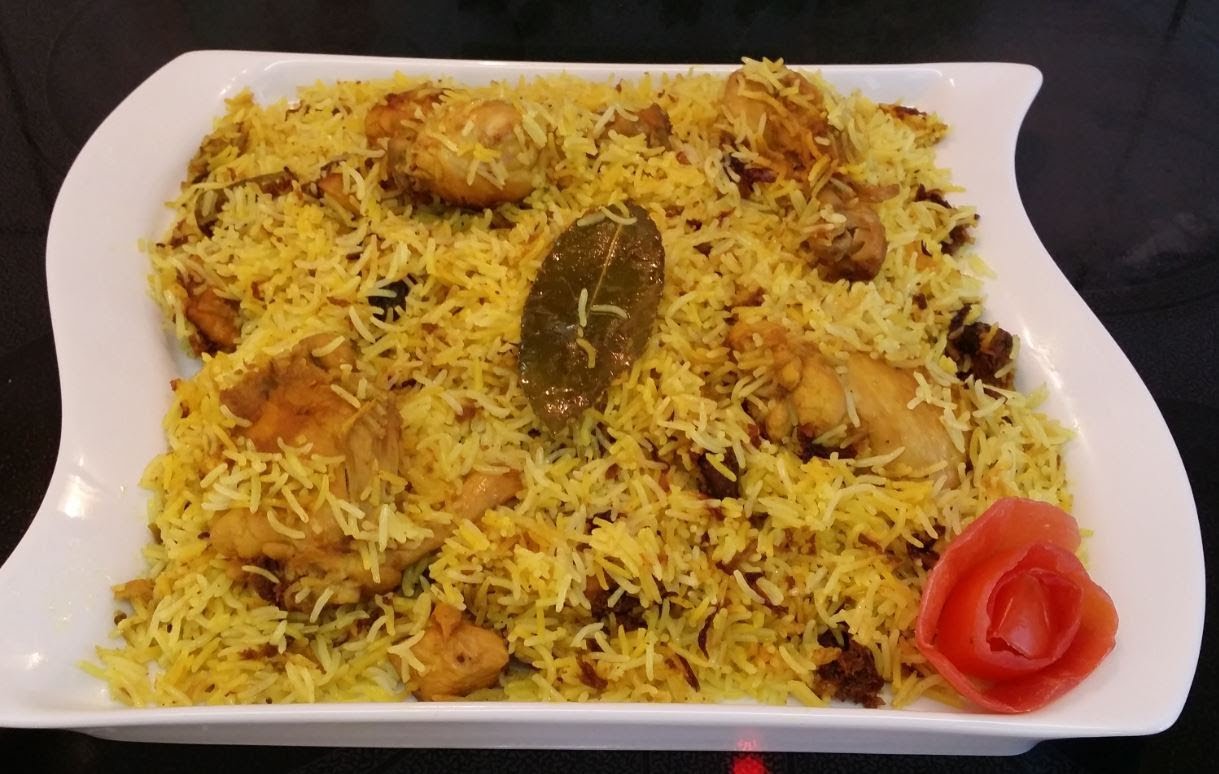 Afghani Biryani is all about dry fruits. It is a traditional dish of Afghanistan which is getting popular in other countries as well. This biryani is the healthiest form of biryani because a huge variety of dry fruit like almond, cashews, pine nuts, and raisins are used in it. It is prepared with the meat of lamb and basmati rice along with some mild spices.
So, now you get a clear idea regarding the massive variety of this dish. Biryani is actually a very common dish because of its flexibility to change according to your taste and choice. After reading this article, you will be definitely looking to try one of these 21 different types of biryani because you recognize that there is a lot more in the world than Sindhi and Bombay biryani. With only small variations, you can give it a new look and taste that you have never tried before.
Please follow and like us: