When it comes to a diet plan, we are always concerned with the healthy diet which cannot only reduce the fats building process in our body but can also provide us with good taste and energy. For a healthy diet, our first pick is always a good salad combined with fruits and vegetables.
We have many places in our city Karachi that are offering good quality salad quite rich in taste. We have enlisted a few to ease you in approaching the right place for the right intake.
Organigo
Situated in Bukhari commercial DHA, Orgiano offers a deliciously delightful salad. The salad is dressed beautifully. The mere sight of the salad dressing is good enough to charm up your taste buds. It offers different varieties from Russian Salad to the beef one but the most craving salad here is the chicken salad.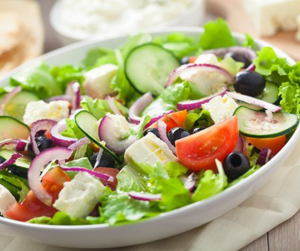 Image: Veeba
Chop Chop Wok
Have you ever headed to Chop Chop Wok? Yeah, one of the yummiest food spots in Karachi situated on the two main locations, Stadium Road and DHA Ph. 5.
Not to speak of the other food options, it has also the different salad varieties which are finger-licking in taste and healthy too. The Thai beef salad is fantastic, carrying onions, cucumbers, bean sprouts tossed and Nam Jim sauce gives you a perfect Thai taste.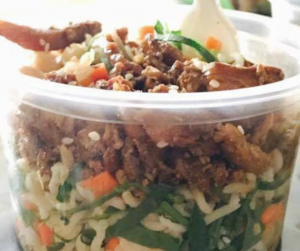 Image: Dawn
Eat Fit
One of the largest salad providers in Karachi is Eat Fit is situated in D.H.A Phase 6. They are offering a very wide variety in the salad which includes Beetroot and Chickpea Salad, Chicken with Garden Salad, Chicken Lettuce Cups, Asian Brown Rice Salad, Garden Salad with Seasonal Fruits and Nuts, Corn and Bean Salad and many more. The most interesting part is that all the salads are equally famous among all.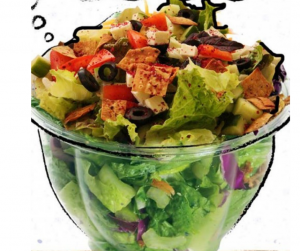 Image: Pakistani.pk
Pizza Point
The salad bar from Pizza point is divine. It is nutritive. It is generously served. The taste is super amazing and the salad bar is much healthier. All the ingredients are added with balance which enriches the salad taste. They add noodles, macaroni's, fruits and vegetables with sweet corn and chicken. They offer French and Russian salad with French and Russian Sausages. This is one of the most famous spots which offers the yummiest healthier salad.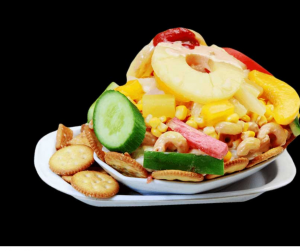 Image: Pizza Point
The Deli
Located in Clifton, The Deli is also one of the most recommended salad places. They offer salad filled with nuts. If you're going crazy to have some deliciously mind-blowing taste in the salad, come to this place. Kale, apple and cranberries tossed in with the nutty granola are the ingredients of the salad.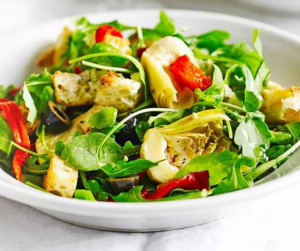 Image: Immediate.co
Espresso
If you want to get a healthy, energetic, fats-free diet then nothing is better than a salad. And when it comes to Espresso is the right place which offers what you actually need in a salad. Fresh iceberg lettuce, grilled chicken breast, olives, tomatoes are dressed beautifully in the salad. Have a try at least once.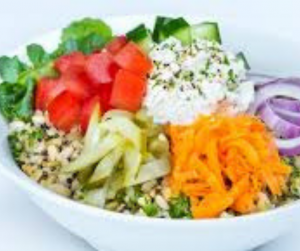 Image: Foodservice & Hospitality
Chatterbox
We have experienced many kinds of salad but rarely we have tasted prawn salad. We have tasted breakfast in Chatterbox but we have hardly gone for its prawn salad. This is the speciality of the place. They are offering a unique style salad with wonderful dressing which is superb in taste. Chatterbox is situated in Zamzama DHA.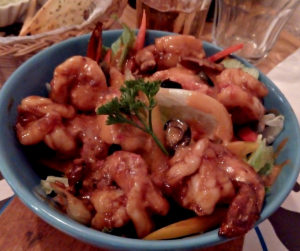 Image: Dawn
SOI
One of the unique salad bars is being offered at SOI. Their salad is known to be quite crunchy. The ingredients include cucumber and carrot with all the crunchy noodles and peanuts. Peanuts make the salad more special and amazing The place is situated in Khayaban-e-Sahar DHA.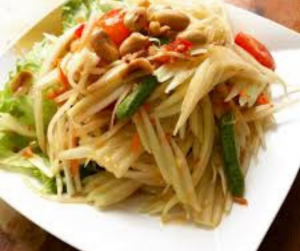 Image: Facebook
Bait Al Mandi
This place Bait ul Mandi is situated in Shaheed-e-Millat Road. It offers good food variety. It's not especially known for salad but a very unique taste salad is being offered here named as Fattoush Salad. It is not a salad place however this Fattoush Salad has an amazing taste that it's worth trying at least once.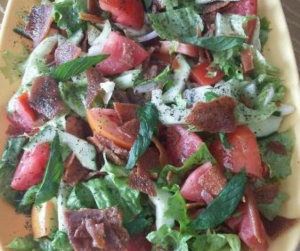 Image: Tripadvisor
Xander's
This food spot has different branches in Clifton, Tipu Sultan Road, and others. The speciality of the salad is the richness of the salad. It is good enough to satisfy a complete hunger. It is rather a food dish and is enough for one time meal. Covered with exactly the right amount of quinoa, rocket, feta, baked cherry tomatoes, sprinkled cranberries and pine nuts, the salad makes its taste the most "Yummy".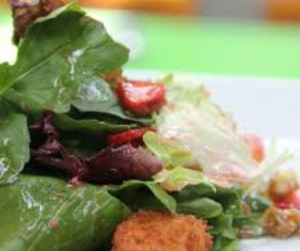 Image: Diva Online
Now, if you are tired enough or not willing to prepare your diet plan meal or a salad, just click and get the best ones here. You can also share your experiences here in the comment box.
Have fun!
Please follow and like us: