The first image which comes in our minds with the name fast food is Burger. This is the most favourite item among all in the fast food catagory. People eat it as a snack and also as a meal. From childern to the old age people, all crave for burgers.
In the whole country, there are many fast food spots and burger points from the cheapest streets carts to the high ranked restaurants where we can have a tasty burger. But as far as Islamabad is concerned, we have enlisted some yummiest food spots which can ease your searching for a delicious burger.
Street Burger
This is a tasty burger point. Amazing burgers and fries are offered here. At Nazim-ud-din Rd, F 6/1 Blue Area, Islamabad, the burgers are always delightful, juicy, and juicy. People love their "skinny" burger.
The only thing which might be lacking is the shortage of space. The staff is pretty much friendly and customer service is outclassed. This is one of the nicest places for burgers in Islamabad.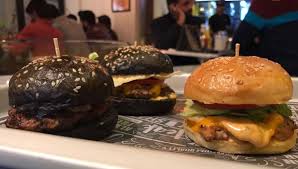 Image: Youline Magazine
The Burger Co.
Situated at Markaz F-11, Islamabad there is a unique burger spot "The Burger Co." The place is a little difficult to find. They also do not have much seating area, however, it is still one of the best burger places in Islamabad and definitely worth a try. They add the ingredients with balance. The taste is mouthwatering. The most impressive factor is that it is attached with a meat shop and quite fresh meat is used to prepare a burger. It is considered to be one of the best burgers in Islamabad. They prepare précised burgers with fantastic aroma of spices. Neat and clean kitchen. Outdoor sitting arrangement are mind blowing.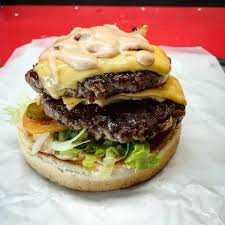 Char-Grill Central – CGC
Char-Grill Centre was started by two food enthusiasts who aim to serve the foodies most nutritious and flavorful burgers in Islamabad. The meat is quite fresh and unprocessed here. They buy meat locally on everyday basis. Health, taste, and service are at the heart of what they do to give customers a unique burger experience every time
This is the best burgers in town. They have maintained the quality food. It is a highly recommended burger point in Islamabad.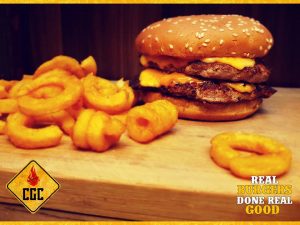 Image: Dine in
Jessie's
Jessie's is a burger point situated in the heart of Islamabad. A place that boasts affordable high-quality burgers and environment that'll bring thunder of joy into any fan of pop culture. From the recipes to the interior and the playlist, everything is conscientious and handcrafted. Jessie's covers everything for everyone. It's a right place to hang out. If you're mad about burgers and shakes or you want to celebrate your parties with loved ones or just want to catch up with a few friends over a couple of drinks, they just have lined up all the items. They are specialized in burgers and the best one is the "son of a Bun". It is a must visiting spot.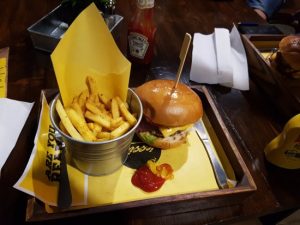 Image: Tripadvisor
Nagina Burger
Nagina burger is a Hamburger spot situated at Double Road Sumbal Rd, F-10 Markaz, Islamabad. They are offering national burgers. A good place to have your authentic anda shaami in Islamabad. The Shami Egg Burger is one of the Nicest and fresh burgers here. Their sale volume is quite high due to their high-quality burgers and rich in tastes. You will have a nice experience here. The burger is so large that you can even take it as a complete meal. If you want to try something different. Head yourself here.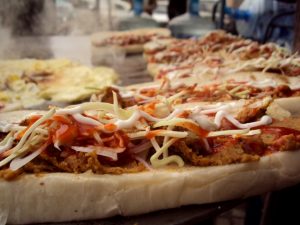 Image: Meta Blog
Howdy Islamabad
Howdy is located in Gol Market in Islamabad. When it comes to fast food, then there is no comparison of such a unique. countryside cowboy-style place. They introduce a new theme of a cowboy for their waiters. The cowboy hats are also available for customers for capturing the moments like Howdy. The staff here is very active and supporting. They serve with courtesy on your table. This is the only place where you get Mutton burgers (Volcano do). Milk Shakes and juices are also available with a nice dine-in place. Cleanliness is perfect. They don't compromise with food hygiene.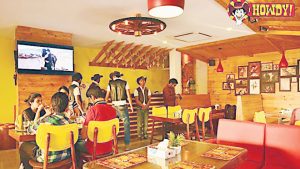 Image: Top Whatsup
Ranchers Café
Ranchers Cafe is one of the royal taste food places in Islamabad. The burgers here are deliciously yummy. It is a very tasty fast food centre. Its theme is brilliant. Families visit the cafe and enjoy the tasty burgers. Management is courteous and caring. Sitting area is also pretty nice. A neat and clean environment that a one-time visitor will love to re-visit there. It is located in Time Square Plaza، I-8 Markaz, Islamabad.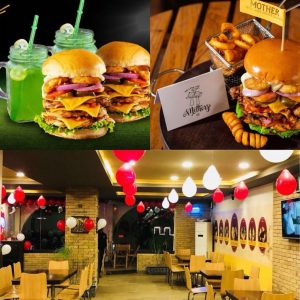 Image: Invest in Pak
Delight Afghani Burger
Delight Afghani Burgers is an Afghani fast food item place. But the "Afghani" burger is the special one here and its taste is too good. They add the double chicken sausage in the burger. It is quite big and can make your tummy full. They have a perfect place delightfully furnished but the number of staff is not good enough in numbers to entertain as the crowd is incresing day by day. It is located in Khawaja Market, Islamabad.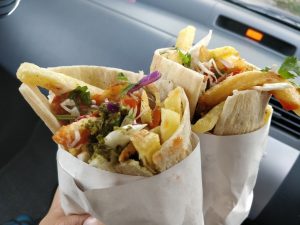 Image: Twing
Burger Fest
Burger Fest is the place where one can take part into confrontation just to find a sitting place. Yes but that's why they have takeaway option. They have a great quality and burgers are too large in size that usually you can't finish the burger completely in one go. You will fall in love with every bite. The white sauces are very good. The place is located in the Markaz F-7, Islamabad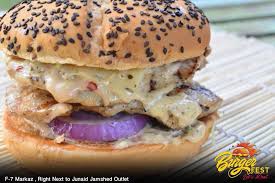 Burgers Etc
Burger Etc is a very nice burger cafe with a unique name. The burger is good in taste and the wide window here looks fabulous in diner-style. The Cheeseburger has a wonderful taste, excellent size and yummy 'sauce'. The place is quite tidy and clean. The price is quite affordable. They truly deserve to succeed. It is situated at Bhittai Rd, F-7 Markaz, Islamabad.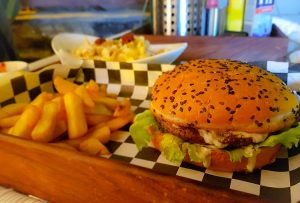 Image: Youlin Magazine
Hope you have found the perfect burger spot list but still there are many left and can be added by commenting in the comment box.
Have a Burger Day!
Please follow and like us: